Amantii SYM-100-B 100 in. Basic Clean-Face Electric Built-In with Glass, Black Steel Surround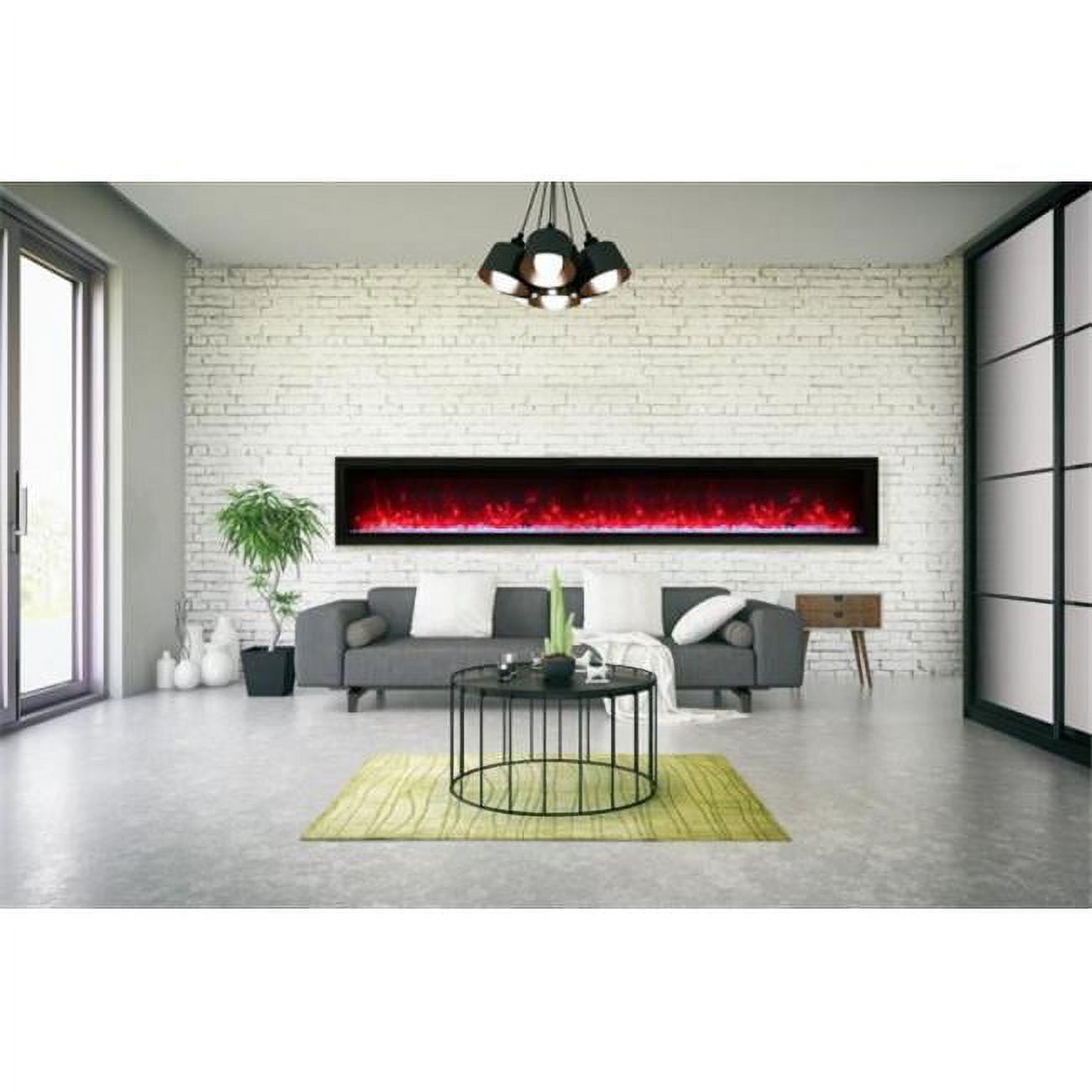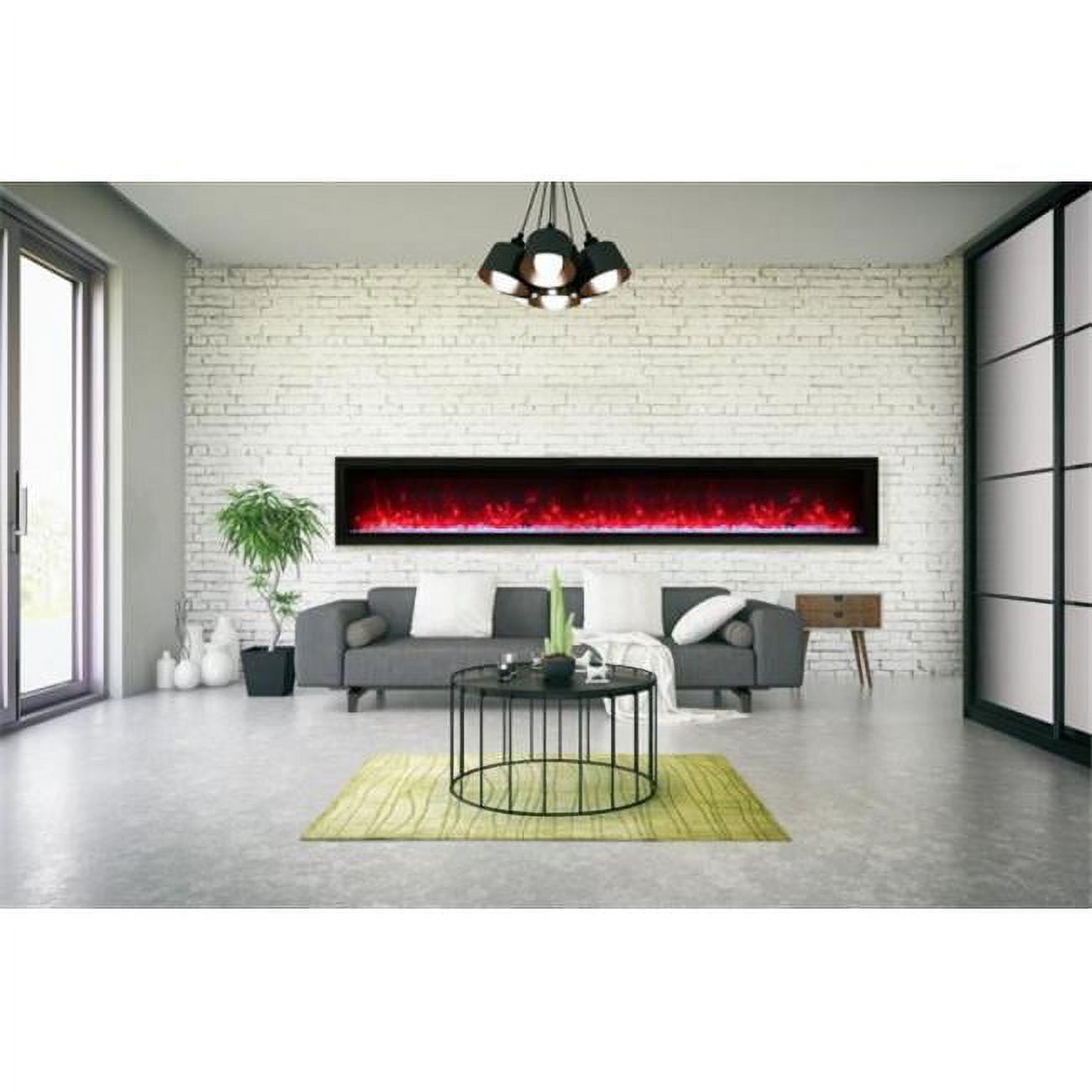 Our Price:
$2,499.00
You Save $749.70 (30.00%)
---
Manufacturer Part #: SYM-100-B
Lead Time: 6 Days
The amazing electric fireplace, part of the Symmetry B Series by Amantii, is the Amantii basic fireplace model offering clean, contemporary aesthetics with no visible unsightly heat vents and red glowing heat grills. The electric fireplace features our stunning multi-colored state-of-the-art Fire & Ice flame presentation. The slim design allows for versatile applications including semi-flush mount within 2 x 4 walls. Standardized sizing allows for hassle free installation at any stage. Enjoy the warmth and beauty of the Symmetry B in your favorite living spaces.
Vibrant multi-colored state-of-the-art Fire & Ice flame that is easily changed from blue to purple to rose to violet to orange or yellow with just a click of the remote. Three color strips generate more flame options that ever.
Features
Flame operates with or without heat
Perfect for zone heating approx. 500 sq. ft. 4800 BTUs
Can be fully recessed
Can be semi-flush mounted within a 2 4 wall
SYM-XS surround required
Remote For flame & heater
Fire & Ice Flame presentation three light strips allow for yellow, orange, blue, violet and rose colored flames
2 Stage heater
Hard wire ready
Thermostat hard wire ready
Single remote control for flame, ambient canopy lighting & heater included
Heater is located on the inside top of the fireplace unit allowing the heat to cascade down over the glass
Hidden venting allows for a true clean face appearance
Trim is required and fireplace units come with Black Surround
IncludedInstallation Options
The slim design allows for versatile applications including semi-flush mount within 2 x 4 walls
For Semi-Flush Mount Installation
For rooms where space may be at a premium, Symmetry & Symmetry-B models can also be partially recessed within a 2 x 4 wall. The unit will sit 2 outside of the wall with 4 of the unit mounted inside
The slim design allows for versatile applications including semi-flush mount within 2 x 4 walls
Hassle free installation fireplace unit can now be installed at the end of the project with standardized sizing
Hassle Free Installation Standardized Sizing
The Symmetry fireplaces have been made with standardized unit sizing. Standardized fireplace sizing creates hassle free installation at any stage of the project. This means that the opening for the fireplace can be made at any stage of a build the appliance can be easily installed and finished with the included surround at the end of a project. The surround beautifully completes the fireplace without the need for detailed or costly finishing. Enjoy the warmth and beauty of your favorite living spaces
Clean Face
No Unsightly Venting Unlike electric fireplace models made by other manufacturers, Symmetry fireplaces are unencumbered by unsightly venting or red glowing heat grills. Venting and grills take away from the aesthetics of a fireplace and the Symmetry series have some of the biggest glass viewing areas in the industry. You'll see more of what is important a beautiful, warm and comforting flame display
Hidden Venting & No Grills
The heater is located at the top of the fireplace allowing heat to cascade down in front of the glass
Specifications
Voltage: 120V
Amps: 12.5
Watts: 1200 max
Heater for High: 1200W
Heater for Low: 600W
No Heater: 60W
Lamps: LED 22W
Rotor Motor: 1 at 5W
Plug Location: Left Side
Cord Length: 76 in.
Glass View Opening: 13.12 x 98.37 in.
Approx. Heating Area: 400 sq. ft.
Dimension: 15.62 x 100.25 x 5.5 in.
Size: 100 W in.
Fireplace Size: 15.62 H x 100 W in.
Weight: 147.7 lbs
You May Also Like