Amantii SYM-34-XT 34 in. Extra Tall Clean-Face Electric Built-In with Black Steel Surround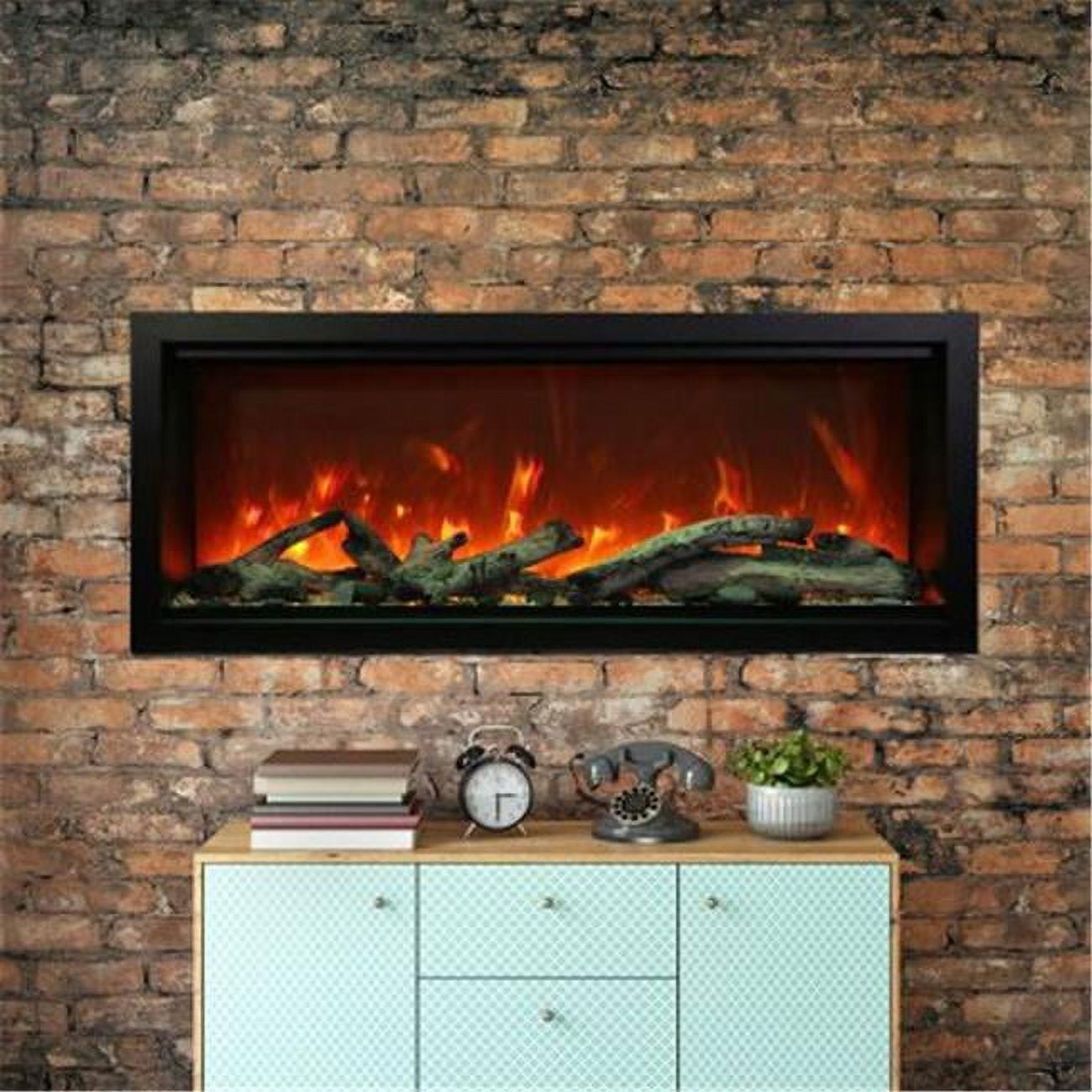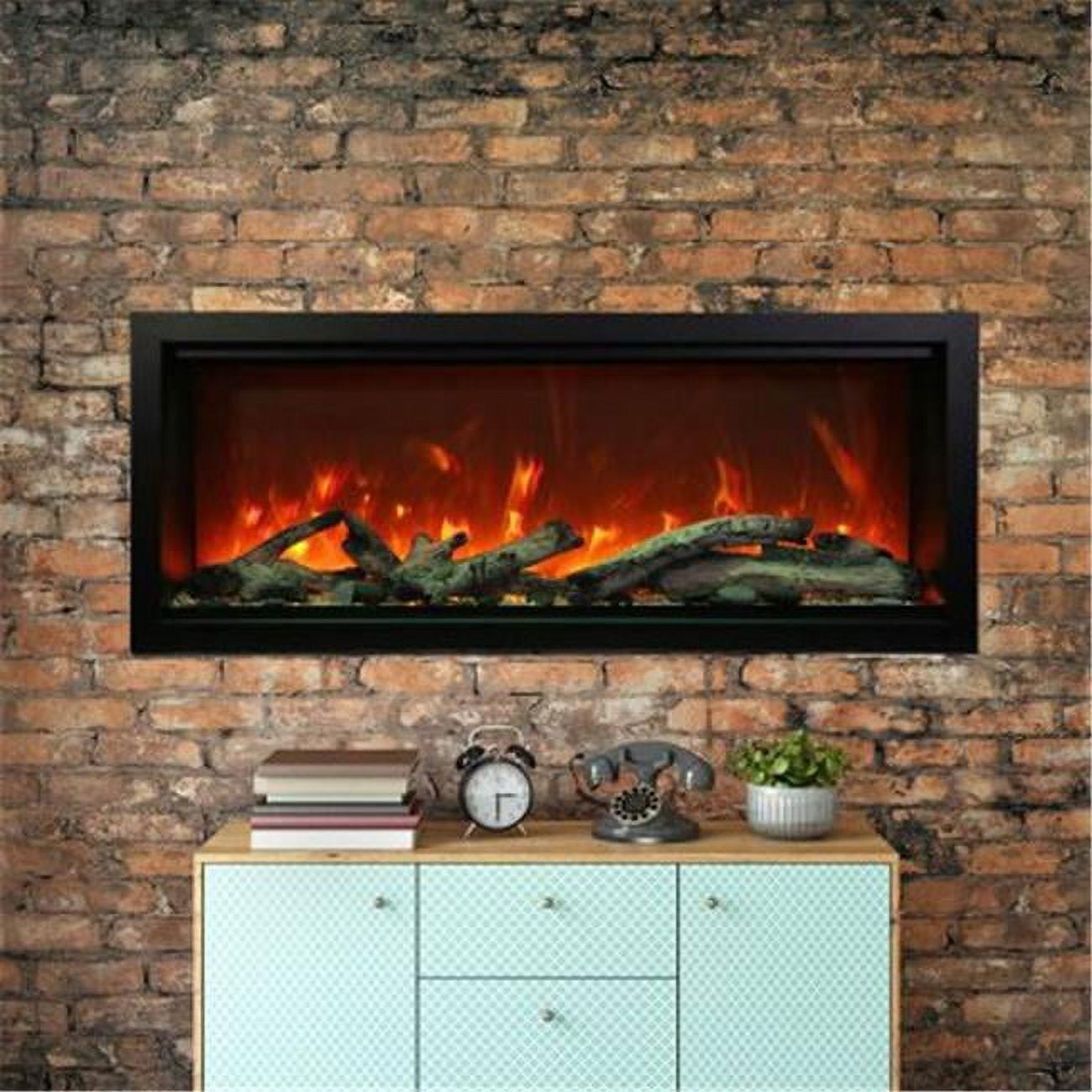 Our Price:
$1,599.00
You Save $479.70 (30.00%)
---
Manufacturer Part #: SYM-34-XT
Lead Time: 6 Days
The stunning electric fireplace by Amantii is taller than the Symmetry models and boasts our largest glass viewing area yet. Unencumbered by unsightly venting and red glowing grills, Features a stunning true clean face display. New to the Symmetry series are two flame patterns choose from Amantii's traditional diffused flame appearance and a new realistic flame style.
Vibrant multi-colored state-of-the-art Fire & Ice flame that is easily changed from blue to purple to rose to violet to orange or yellow with just a click of the remote. Three color strips generate more flame options that ever.
Ambient canopy lighting illuminates media like never before. Cast a colorful glow over the supplied decorative media in the tray below. Cycle through a rainbow of 13 different colors. Blend flame colors with contrasting canopy lighting for a unique presentation the combinations are limitless.
Features
Glass viewing area is 18 tall with no unsightly venting visible
Two flame style patterns standard and more traditional
Flame operates with or without heat
Perfect for zone heating
For convenient control of features with temperature display
Fire & Ice Flame presentation three light strips allow for yellow, orange, blue, violet and rose colored flames
Ambient Canopy lighting in 13 colors to illuminate decorate media adds new dimension
Approx. heating area 400-500 sq. ft.
2 Stage heater
Hard wire ready
Thermostat hard wire ready
Single remote control for flame, ambient canopy lighting & heater included
Heater is located on the inside top of the fireplace unit allowing the heat to cascade down over the glass
Hidden venting allows for a true clean face appearance
Trim is required and fireplace units come with Black Surround
Two Flame Style Patterns
The Symmetry XT fireplace arrives from the factory with a New realistic style flame pattern. Enjoy our Fire & Ice flame presentation in a New style that mimics real fire like never before. If you prefer Amantii's traditional diffused flame appearance, simply remove the included stencil
Hassle Free Installation Standardized Sizing
The Symmetry fireplaces have been made with standardized unit sizing. Standardized fireplace sizing creates hassle free installation at any stage of the project. This means that the opening for the fireplace can be made at any stage of a build the appliance can be easily installed and finished with the included surround at the end of a project. The surround beautifully completes the fireplace without the need for detailed or costly finishing. Enjoy the warmth and beauty of the in your favorite living areas
Clean Face
No Unsightly Venting Unlike electric fireplace models made by other manufacturers, Symmetry fireplaces are unencumbered by unsightly venting or red glowing heat grills. Venting and grills take away from the aesthetics of a fireplace and the Symmetry series have some of the biggest glass viewing areas in the industry. You'll see more of what is important a beautiful, warm and comforting flame display
Hidden Venting and No Grills
The heater is located at the top of the fireplace allowing heat to cascade down in front of the glass
Extra Deep Tray
At 12 in depth the extra deep tray accommodates more decorative media than any other fireplace on the market
Included
The SYM-XT series electric fireplaces come with your choice of Driftwood, Birch or Rustic Log media kits or ice media kit
Specifications
Voltage: 120V
Amps: 12.5
Watts: 1200 max
Heater for High: 1200W
Heater for Low: 600W
No Heater: 30W
Lamps: LED 22W
Rotor Motor: 1 at 5W
Plug Location: Left Side
Cord Length: 76 in.
Glass View Opening: 17.62 x 30.62 in.
Approx. Heating Area: 400 sq. ft.
Dimension: 20.12 x 32.37 x 11.75 in.
Size: 34 in.
Fireplace Size: 20.12 H X 32.37 W in.
Weight: 65.7 lbs
You May Also Like